octogrammoticum a.k.a. "Schnakenberger Konstellation"
IFF calls its instrumental standard setup of prepared turntables
octogrammoticum
:
8 Technics turntables ("1210"-series)
4 dj mixers (each with 2 phono-channels)
1 sum-mixer (4xstereo or 8xmono or alike)
For project presentation purpose, the turntables and mixers are put on a stable table with the area of 200x100cm and the height of ca 80cm. IFF refers to this setting as "Schnakenberger Konstellation".
Ideally, the table (or stage-element) is placed in the middle of the room so the audience can get close to the table and walk around it.
For stage situations, where the audience can not get close to the table and watch the micro sound installations, a video projection can enhance the public's experience.
Some videos:
IFF at steim
"Octogrammoticum"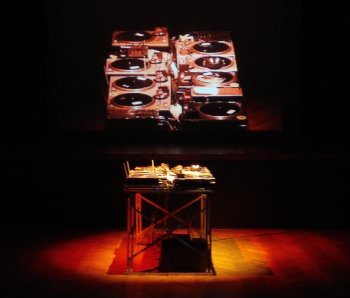 Goethe Institut, Buenos Aires